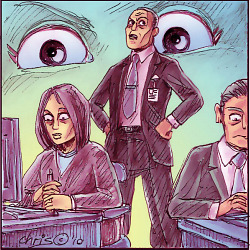 The growing awareness and legislation around bullying has had an unintended consequence: many workplace bullies have simply become sneaky.
Covert bullying is now far more common than overt aggression. The modern workplace bully debilitates with a thousand subtle cuts; sarcasm, innuendo, sabotage, exclusion, criticism, overloading, discrimination. It's delicate but deadly psychological warfare, difficult to detect, tricky to explain and hard to report. Indeed, when it comes to psychical damage, the poison of workplace bullying is usually worse than its bite.
Norwegian researcher and psychologist Stale Einarsen's long-term research showed that 75 per cent of workplace bully victims displayed symptoms of post-traumatic stress disorder. Even five years after the bullying, 65 per cent still had nightmares, panic attacks, flashbacks and anxiety. An even higher proportion felt the bullying had a long-lasting and negative impact on their friendships, leisure time, familial and sexual relationships.
Social psychologists tend to understand the effect of severe bullying as a breakdown of 'core cognitive schemas'. These schemas are the fundamental beliefs about our world (such as seeing yourself as a person important people will like, and believing that hard work will be rewarded) that make our lives meaningful. A breakdown of these assumptions can make the world seem unsafe and unstable, often resulting in high psychological distress.
Some people are able to take the devastating new experience to create new 'schemas'; they may become wiser and tougher. For many others, there is nothing but pure mental breakdown, sometimes with fatal consequences.
We had a wake-up call to the consequences of bullying with the death of 19-year-old waitress Brodie Panlock, who took her own life in 2006 after enduring persistent bullying by three of her colleagues. The cafe operator was fined $220,000 and there were calls for the perpetrators to be charged criminally.
As a result, the Victorian Government announced 40,000 snap inspections of bullying in the workplace. This is not an unreasonable response. A government or industry-sponsored awareness campaign around what is and is not bullying would be an effective partner to the investigations. The biggest limitation to any effective inspection is that people are reluctant to talk about it — bullying is massively under-reported.
While the Productivity Commission says more than 2.5 million Australians have been bullied in the workplace, it's thought that less than a third ever complain about the bullying. One reason is that one psychological effect of bullying is a strong sense of hopelessness and disempowerment. Another is simple pragmatism; people want to protect their careers.
Even with bullying procedures in place, most workplaces are made up of complex and informal networks, empires and factions that can aggressively protect powerful managers accused of bullying. Often victims are bullied more after they make a complaint, often with an abuse of performance management so the victim is made to look incompetent or disgruntled, or the actions somehow justified.
It's not uncommon for co-workers to turn against people who make complaints to protect and even advance their own careers. In my experience, it is often the victim who leaves the workplace with a career in tatters, while the bully gets slapped on the wrist and is eventually promoted once again.
Adelaide psychologist and bullying expert Moira Jenkins says the issue of under-reporting is further complicated because often those who do report bullying aren't actually victims. Rather, they have mistaken reasonable management action for bullying.
The meaning of the term 'reasonable' is battled out every day in workplace bullying cases across the country. Part of the problem is that there is no simple definition to mark the point where management action ends and bullying begins. Legislators and anti-bullying advocates need to come up with a sharper and better-promoted definition so that 'bullying' becomes an adequate prescription of behaviour in the workplace.
Earlier this year the Productivity Commission released its draft report on Occupational Health and Safety stating that only two states in Australia have specific legislation on workplace bullying.
The two states, Queensland and Western Australia, have had a significant decline in worker compensation claims related to bullying since the introduction of bullying specific codes of practice. Queensland has reduced the number of bullying claims from 265 to 130 over five years, while Western Australia had just 20 claims in 2008. Victoria, by comparison, has the highest number of bullying claims — 595 in 2008 alone.
Not all is hopeless. This very debate might be starting to swing. Bullying is costing money, with many bullying victims getting significant payouts to avoid allegations going public. Worksafe has had a massive spike in calls since the Panlock case hit the news, Panlock's Facebook page has over 5000 members, and people are starting to identify the behaviors of their managers as clear cases of bullying.
Perhaps it's time bullies started to lie awake and worry about what will become of them if their career comes to an end. Perhaps it's time bullies started to feel they are being watched.